Tech Reviews
Sony's new X90L series TVs are bigger, brighter, and a perfect match for PS5
Sony recently announced its TV lineup for 2023, with everything from the company's next-gen A95L QD-OLED to its X95L flagship mini-LED TV getting rolled out with new features and improved specs (but no pricing details – that info will be passed along in a month or so along with shipping dates). Alongside the top models, it also announced the XR-X90L series LED TVs, a lineup that should be priced at a more affordable level than Sony's premium sets.
Having reviewed the X90L's 2022 predecessor, the X90K, a model that sits on our best gaming TVs list, I was very interested to see how it compared with the new version and was recently provided with that opportunity at the company's TV and soundbar showcase at the Sony Music building in NYC. I'll get into my impressions of the X90L in a bit, but first let's cover the details, specs, and features of the new TVs.
The X90L series will be available in 55-, 65-, 75-, 85-, and 98-inch screen sizes. You read that right – 98 inches is a new screen size for Sony, and yes, 98-inch TVs are becoming a thing (in the US, that is).
X90L series TVs are full-array LED-backlit sets, and for this year's models, Sony is claiming a peak brightness increase of up to 30% over last year's TVs and a local dimming zone boost of up to 60%. The new TVs use the company's Cognitive Processor XR and also feature XR Contrast Booster, XR Triluminos Pro (Sony's term for quantum dots), and XR Clear Image, a new feature that uses dynamic frame analysis to reduce both picture noise and motion blur.
Like other Sony TVs, the X90L series uses the Google TV platform and has Bravia Core, an app that offers Pure Stream tech for streaming HDR movies at up to 80 Mbps – provided your home's Wi-Fi connection can handle that.
With HDMI 2.1 features such as 4K/120, VRR, and ALLM, the X90L TVs look to be a great option for gaming and come with Sony's new Game Menu, an on-screen overlay that lets you easily enable settings like VRR, motion blur reduction, and black equalizer, as well as configure on-screen crosshair targets. They are "Perfect for PlayStation 5", meaning that both Auto HDR Tone Mapping and an Auto Genre Picture Mode are enabled when a PS5 console is connected.
Sony TVs regularly show up on our list of the best TVs for sound, and while the X90L series doesn't have the same fancy Acoustic Surface Audio+, a feature that places actuators behind the display panel, found on the new A95L QD-OLED models, they do feature Acoustic Multi-Audio with sound positioning tweeters to elevate dialogue and sound effects so they better match the onscreen action. Acoustic Center Sync is also onboard to synchronize the TV's speakers with select Sony soundbars.
I'd be remiss if I didn't mention the X90L series' new aluminum bezel and multi-position stand, which offers standard (allows space for a soundbar) and low-profile settings. And there's also Eco Dashboard, a feature that lets you easily configure the TV for optimal eco-friendliness.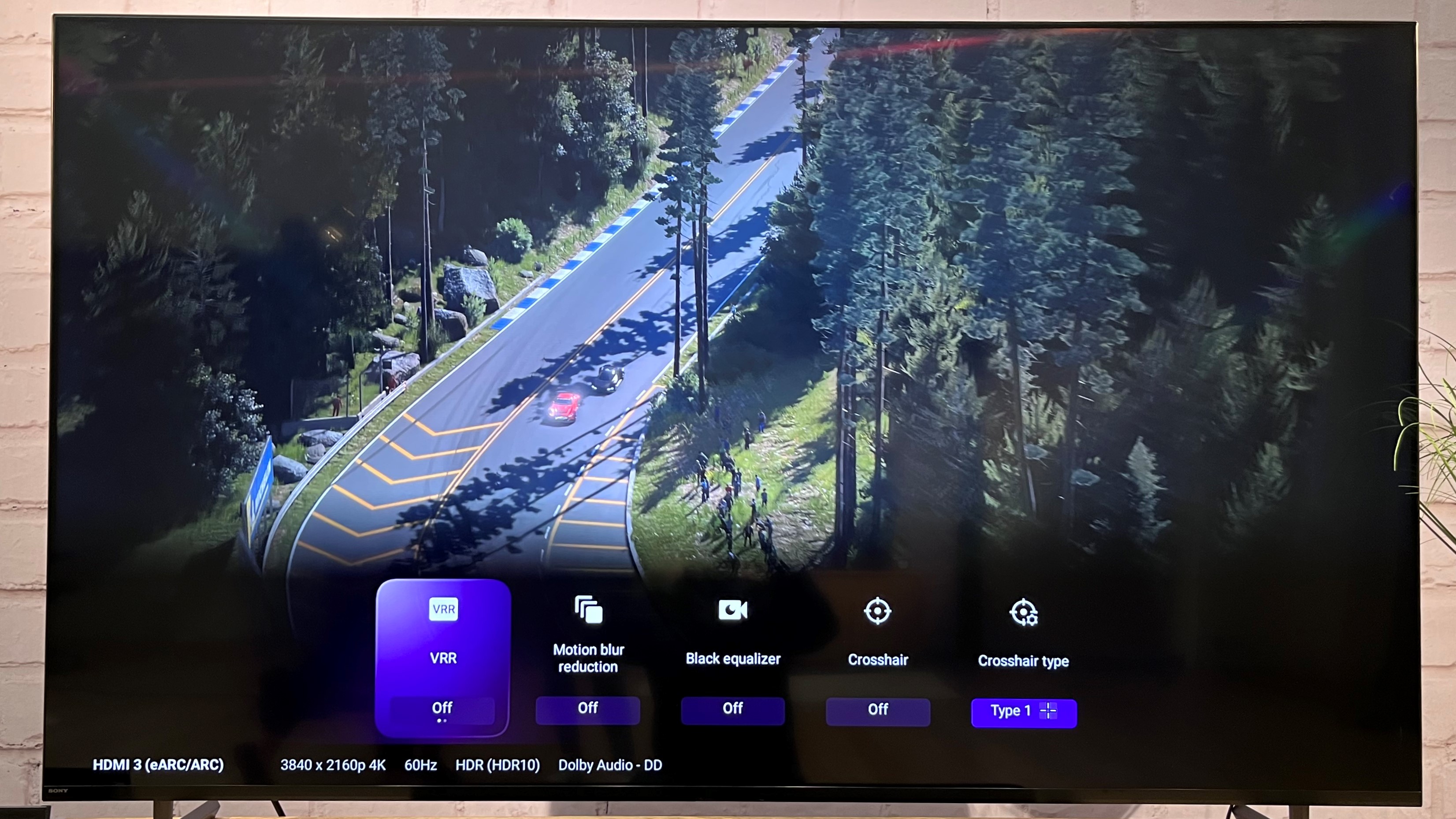 Eyes on with the XR-X90L 
The setup at the Sony Music building positioned a 65-inch X90L model alongside last year's X90K and a Samsung QN85B TV. Right off the bat, I could tell that the X90L's local dimming was more precise, with less backlight blooming, than its predecessor. It also bested Samsung in this regard, though its black levels weren't as deep as that model, which uses a mini-LED backlight.
Sony's brightness claims for the new X90L could be verified in the company's comparative demo, with the new TV appearing much brighter (all TVs were set to the same picture mode) and highlights more pronounced. I measured 964 nits brightness in Standard picture mode when I tested the X90K, and expect the new X90L to have measurably higher light output.
It's hard to make any judgements about color in demos where you don't have control over either the content or the picture settings, but the clips Sony used looked suitably rich in that respect, with reds in particular showing a high level of color detail. Pictures were also very crisp, but not noisy. My TechRadar colleague Matt Bolton was treated to the exact same Sony TV demo in the UK, however, and thought that the new X90L was oversharpening film grain in images, and that the Samsung TV handled that aspect better than both Sony sets. His take: the Samsung would be a better option for film, and the Sony for sports.
I did get to see numerous gaming demos with the X90L in a different and much brighter room that had been set up for product photography. Here, the new Sony's picture held up very well in the high ambient light conditions, and its image looked crisp and blur-free on driving-game clips with fast motion. And while Sony's specs don't make mention of an anti-glare screen coating, I didn't notice much in the way of screen reflections from the bright overhead lights.
My review of last year's Sony X90K cited its impressive performance for the price, and that model's successor, the new X90L, looks to be more of the same and then some. The apparent boost in brightness it provides, along with the more refined local dimming I noted in the demo, are both promising signs for the new TV's performance, and its listed features and specs appear suited to streamers and gamers alike. Also, with the new, gargantuan 98-inch screen size option, Sony is giving us a viable, and most likely affordable, flat-panel TV alternative to the best 4K projectors.